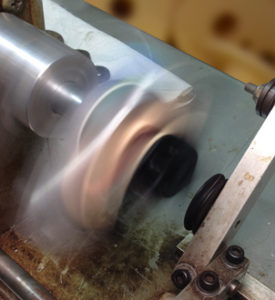 Tone Quest Magazine review of the Deacons PAF set:
"Bobby Tyson is a very humble and laid back guy who just happens to

wind the best sounding vintage-style humbucking pickups on the planet

. We can say this because we have had more than a few authentic Gibson PAFs and many reproduction humbuckers in our possession and Tyson absolutely nails the tone, feel, dynamic response and harmonic complexity of a great PAF pickup (and they weren't all great)."

Click here to read the entire review.
Tyson Tone Lab offers a unique range of PAFs – from clear and biting "Blackguard Tele on Steriods" to fat and honking. All different flavors that can be found in original examples, all with exceptional dynamics and clarity.

Our humbuckers are wound on vintage auto traverse coil winding machines – just as the originals were at Gibson in Kalamazoo.
Extensive time effort and resources were put into vintage coil winding machine research along with R & D with great sounding original examples and the time consuming and painstaking process of sussing out all the fine details that go into not just great sounding, but great feeling replicas of  vintage humbucker pickups.
Development and prototyping of each model involved extensive head to head comparisons with exceptional sounding vintage pickups.




All pickups come with a 30 day no hassle exchange

. Email me if you need help choosing the best pickups for your guitar and playing style.
Clear and bell-like neck humbucker, 

bridge pickup has classic PAF bite and  balanced mids

. Works great in Les Pauls, SGs and ES-335s, VERY versatile.


ALNICO 4 Neck


7.4k Neck – Low Output
8k Bridge – Med Output

Precious & Grace Set
Used by Charlie Starr, Marcus King, Nick Perri


Iconic '59 Les Paul Burst Tone – dry, woody and dynamic.


ALNICO 4 Bridge &
ALNICO 4 Neck




7.5k Neck – Med Output
8.1k Bridge – Med/High Output

Used by Tim Pierce, Brett Kingman

Formerly known as the TTL-2 Set. Same great tone, new name!


Bright and clear neck pickup, bridge humbucker does the "tele on steriods" thing to a tee – sweet and aggressive treble.

ALNICO 2 Bridge &
ALNICO 4 Neck

7.4k Neck – Low Output
7.6k Bridge -Med/Low Output

Preacher's Daughters


Medium output with dry-woody tone with treble chirp. Very musical and dynamic.

ALNICO 4 Bridge &
ALNICO 4 Neck




7.4k Neck – Low/Med
7.6K Bridge – Med Output

| | | | |
| --- | --- | --- | --- |
| Custom Humbucker Pickups | Custom, and modified sets and single pickups are available. | Your Choice of Magnets. | |